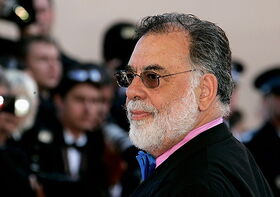 Francis Ford Coppola (born April 7, 1939) is a five-time Academy Award-winning American film director, producer, and screenwriter. Coppola is also a vintner, magazine publisher, and hotelier. He is a graduate of Hofstra University where he studied theatre. He earned an M.F.A. in film directing from the UCLA Film School. He is most renowned for directing the highly regarded The Godfather trilogy, The Conversation, and the Vietnam War epic Apocalypse Now.
Ad blocker interference detected!
Wikia is a free-to-use site that makes money from advertising. We have a modified experience for viewers using ad blockers

Wikia is not accessible if you've made further modifications. Remove the custom ad blocker rule(s) and the page will load as expected.