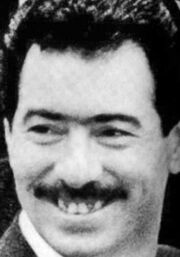 Francesco Arcadi (born 1953) is a capo in the Rizzuto crime family and was acting boss for a short while. He is currently jailed.
Criminal Career
Edit
Francesco Arcadi (Compare Franco) was born in the province of Reggio Calabria in Southern Italy. After migrating to Montreal he became associated with Frank Cotroni and did work for the Sicilian Rizzuto clan. Although being of Calabrian descent he grew close to Nicolo and Vito Rizzuto and rose the ranks. His brother Stefano also became part of the organization.
Arcadi grew to becamo a key figure in the drug trafficking business and acted as a liaison between street gangs and the Hells Angels, who were used as strong arm as well as drug distributors. Under his command were more than 25 men who were guided by his two lieutenants Lorenzo Giordano and Francesco Del Balso. After boss Vito Rizzuto was arrested in 2004 for racketeering charges Arcadi was believed to have become the interim boss.
In 2005 Arcadi had a fallback with the D'Amico brothers, a group of Calabrian drug dealers with significant contacts in the Toronto and Hamilton area. Soon intimidations flew back and forth. On one occasion the D'Amico brothers kidnapped Nicolo Varacalli, a close associate of Arcadi, but let him go unharmed a couple of days after the dispute was settled in a way. A year later Arcadi was again targeted. In August 2006 Domenico Macri, one of his proteges, was murdered by two gunmen. However, Arcadi knew the hit was intended for him. He was advised by the Rizzuto leadership to seek refuge abroad until things were sorted out, which he did. He took his wife and went to live in Italy for a couple of months. Nicolo Rizzuto, Paolo Renda and other significant members of the organization were escorted daily by seasoned enforcers to keep them secure.
On November 23, 2006, after a three year investigation, the RCMP launched several raids on the Montreal Mafia. Arcadi was arrested on accusations of drug trafficking, cocaine smuggling and marijuana export. He and Francesco Del Balso were each convicted in 2008 to a prison term of 15 years. In the years during his incarceration the Rizzuto clan was heavily under siege by rivals, consisting out of an internal faction, old associates and rival street gangs who had muscled up against them. This resulted in the Rizzuto war. Several big-shots such as Nicolo Rizzuto and Paolo Renda were killed. Others, who were closely associated with Arcadi, were also murdered. On January 27, 2009, known Arcadi drug trafficker Sam Fasulo was murdered. In January 31, 2011, another Arcadi associate, Antonio Di Salvo, was killed and in December 2012, Giuseppe Fetta, a former strong arm of Arcadi, was shot but survived. Arcadi himself in the meantime remains locked up.
Ad blocker interference detected!
Wikia is a free-to-use site that makes money from advertising. We have a modified experience for viewers using ad blockers

Wikia is not accessible if you've made further modifications. Remove the custom ad blocker rule(s) and the page will load as expected.