Thomas Francis "Tom" Rosqui (12 June 1928 - 12 April 1991) was an American character actor with extensive stage experience. Rosqui was born in Oakland, California, the son of Sally (née Jardin), a salesperson, and Anthony Rosqui, a traffic manager. Rosqui appeared on Broadway in "Sticks and Bones," and "The Price," among others. He acted often in television, but his most prominent role was as Corleone family bodyguard Rocco Lampone in the first two Godfather movies. Following a long struggle with cancer, he died at 62 in 1991.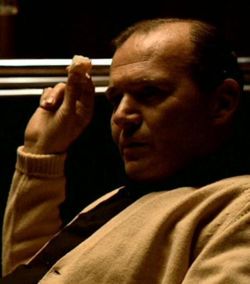 Ad blocker interference detected!
Wikia is a free-to-use site that makes money from advertising. We have a modified experience for viewers using ad blockers

Wikia is not accessible if you've made further modifications. Remove the custom ad blocker rule(s) and the page will load as expected.