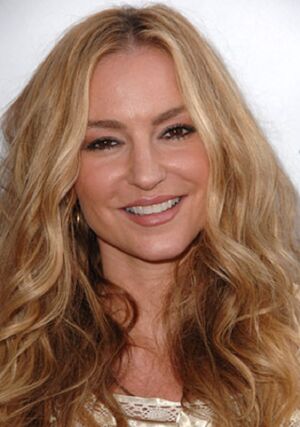 Drea de Matteo (born Andrea Donna de Matteo on January 19, 1972) is an American Emmy-winning actress, perhaps best known for her roles as Adriana La Cerva on the HBO TV series The Sopranos and as Joey Tribbiani's sister Gina on the NBC-TV sitcom TV series Joey.
In 2004, de Matteo won an Emmy for Best Supporting Actress (Drama) for her role as Adriana on The Sopranos (season 5) and was nominated for a Golden Globe the same year, for the same role. She was ranked #42 and #56 on the Maxim Hot 100 Women of 2001 and 2002, respectively.
From 2004 to 2006, de Matteo portrayed Joey Tribbiani's sister Gina in the Friends spin-off Joey. The show was cancelled after two seasons.
De Matteo played the role of Wendy Case in the FX original series Sons of Anarchy. The pilot episode aired September 3, 2008, and De Matteo continued making regular appearances into the series' sixth season. She was promoted to a series regular for the seventh and final season.
De Matteo played Angie Bolen, the mother of the Bolen family, on season 6 of the ABC show Desperate Housewives.[1][2][3][4] She officially left Desperate Housewives at the season 6 finale in 2010, due to personal reasons.[5] [6]
De Matteo played the stepmother of Steve Wilde, the main character of the FOX comedy Running Wilde, appearing in Season 1, Episode 9. De Matteo co-starred as Krissi Cates in the film adaptation of Dark Places (2015), with Charlize Theron, Chloë Grace Moretz, and Nicholas Hoult.[7] In 2015, she was cast as Det. Tess Nazario in the NBC drama series Shades of Blue, starring alongside Jennifer Lopez and Ray Liotta. It premiered on January 7, 2016.
References
Edit
External links
Edit
Ad blocker interference detected!
Wikia is a free-to-use site that makes money from advertising. We have a modified experience for viewers using ad blockers

Wikia is not accessible if you've made further modifications. Remove the custom ad blocker rule(s) and the page will load as expected.