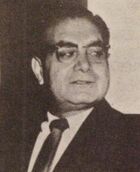 Dominic Alaimo (born January 28, 1910- died 1990) known as "Nick", was a Capo in the Bufalino crime family.
Biography
Edit
Alaimo was born in Montedoro, Sicily, the same place where many other mobsters in the Scranton Wilkes-Barre crime family hailed from and resided at 6 Cherry St., Pittston, PA. His arrests included entries in 1932 for robbery and federal liquor and labor laws violations. He was considered to be a leader or "Capo" in the Pittston Wilkes-Barre area. He was an enforcer involved in racketeering and gambling operations with his brother Sam. He was one of the Attendants of the Apalachin conference in 1957.
Alaimo was considered an "enforcer" and leader of the mafia in the Pittston Wilkes-Barre area and engaged primarily in labor racketeering and running gambling operations with his brother Sam. Alaimo helped intimidate labor rival Min Matheson and gain ground in the labor racketeering activities for the family. He was the founder of the Alaimo Dress Making Company and Jane Hogan Dress Co. He was allegedly marked for death in 1964 by the Bufalino's and Angelo Bufalino and Sam Cometa were given the contract to kill him as it was strongly believed that Alaimo had informed on their activities. Alaimo was subsequently tipped off by the FBI about the plot against his life but decided not to act, his assassination never came to fruition. D Alaimo was believed to be an Informant he actually ratted on himself to protect his family. Because of this he was allowed to "retire" and work with thr family on his terms. Alaimo
He died of natural causes in 1990
Ad blocker interference detected!
Wikia is a free-to-use site that makes money from advertising. We have a modified experience for viewers using ad blockers

Wikia is not accessible if you've made further modifications. Remove the custom ad blocker rule(s) and the page will load as expected.