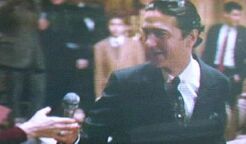 Dominic Abbandando is the Corleone family's press secretary.
A direct descendant of Genco Abbandando, the Corleone family's consigliere, Dominic became Michael's press secretary when the Corleone family became legitimate. He constantly faced questions from the press about the less legitimate side of the family. He went with Michael to Rome in order to secure the immobiliare deal, and reported the grave condition of the Pope. As Vincent Mancini, Michael's sucessor kept the Corleone's business criminal, it is possible that Abbandando was moved to a different position in the business.
Ad blocker interference detected!
Wikia is a free-to-use site that makes money from advertising. We have a modified experience for viewers using ad blockers

Wikia is not accessible if you've made further modifications. Remove the custom ad blocker rule(s) and the page will load as expected.