Crime Story was an NBC TV drama created by Gustave Reininger and Chuck Adamson. It was executive produced by Michael Mann. The show premiered with a two hour pilot - a movie which had been exhibited theatrically - and was watched by over 30 million viewers. Crime Story then was scheduled to follow Miami Vice on Friday nights, and continued to attract a record number of viewers. NBC then moved the show to Tuesdays at 10 pm to counter program it opposite ABC's Moonlighting. Set in the early - pre-Beatles -1960s, the series pitted two men against each other - Lt. Mike Torello (Dennis Farina) and mobster Ray Luca, (Anthony Denison) - in an obsessive drive to destroy each other. As Luca moved from street crime in Chicago, was "made" in the Chicago Outfit and was sent to Las Vegas to monitor their casinos, Det. Mike Torello followed Luca, as part of a special Organized Crime Strike Force. Co-starring with Farina (Torello) , as the members of his special Major Crimes Unit (MCU), were Bill Smitrovich as second-in command Sgt. Danny Krychek ,Paul Butler as Det. Walter Clemmons, Bill Campbell as Det. Joey Indelli, and Steve Ryan as Det. Nate Grossman. All four men were later re- assigned with Torello to the Federal Strike Force. The first season ended with Ray Luca and Pauli Taglia on the lam, hiding from Det. Mike Torello, in a Nevada desert shack, which is located in an Atomic Bomb test area. An A-Bomb explodes, presumably obliteraing Luca and Taglia, in one of the most memorable cliffhangers in television history, leaving viewers wondering whether they were dead or alive, just as the show's creator were wondering if the series itself was dead or alive with NBC.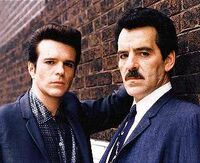 Ad blocker interference detected!
Wikia is a free-to-use site that makes money from advertising. We have a modified experience for viewers using ad blockers

Wikia is not accessible if you've made further modifications. Remove the custom ad blocker rule(s) and the page will load as expected.