Charles Carmen Inglesia (died February 13, 1985) more commonly known as "Chuckie English" was a high ranking mobster in the Chicago Outfit and close personal friend of one time outfit boss Sam Giancana.
Early life and Criminal career
Edit
English and Sam Giancana were neighbors as kids and rose through the ranks of the Chicago underworld.
He was at the height of his power in the 1960's and early 70's. His record distributing company Lormar controlled what records were put in jukeboxes in the Chicago area and beyond. He also made high interest juice loans and made trouble for those that did not pay-up. He also ran Record and vending machine companies.
After Giancana was whacked in his home, right before he was slated to testify before Congress about the Kennedy assassination, Chuckie saw his career go into decline and it was suggested he leave town. He did for a few years but in the early 80's he was allowed to return and run some low level action. Which seems to have been a mistake.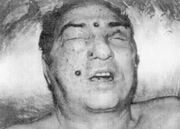 On Valentines eve February 13, 1985 Chuckie English went up to Horwaths, a Chicago area restaurant, with an old friend and dined on roast pig. After they finished they went into the parking lot and as Chuckie reached his car two men in ski masks walked up and opened fire killing him. Following that they ran off into the alley behind the restaurant and were never caught.
Ad blocker interference detected!
Wikia is a free-to-use site that makes money from advertising. We have a modified experience for viewers using ad blockers

Wikia is not accessible if you've made further modifications. Remove the custom ad blocker rule(s) and the page will load as expected.