Cesare Mori (Pavia, December 22, 1871 – Udine, July 6, 1942) was a "prefetto" (prefect) before and during the Fascist period in Italy. He is known in Italy as the "Prefetto di Ferro" (iron prefect).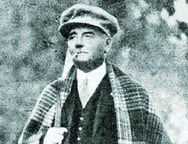 Due to his reputation as a man of action, he was recalled to active service in 1925 by the Minister Luigi Federzoni. He was appointed prefect of Trapani, arriving there on 6 June 1925. He stayed there until 20 October 1925, when Mussolini appointed him prefect of Palermo, with special powers over the entire island of Sicily and the mission of eradicating the mafia by any means possible. He took up his post in Palermo on 22 October and remained in office until 1929. Mori launched a violent assault on criminal activity, hitting gangs of robbers and local bosses particularly hard. On 1 January 1926 he undertook what was probably his most famous action, the occupation of the village of Gangi, a stronghold of various criminal gangs. Using carabinieri and police forces he ordered house-to-house searches, picking up bandits, small-time mafia members and various suspects who were on the run. Mori had no hesitation in using women and children as hostages to oblige suspects to give themselves up. These harsh methods earned him the nickname of "iron prefect". He continued his activities with broadly similar tactics, not unlike those used in the anti-crime campaign following Italian unification, throughout the period 1926-1927. However, his enquiries soon brought to light the connections between mafia bosses and influential members of the State apparatus. On 16 June 1929 he was made a senator by Mussolini and recalled to Rome, while State propaganda throughout Italy proudly announced that the mafia had been defeated.

The effectiveness and value of the methods used by Mori against the mafia are still debated today. His unconventional methods were certainly effective, at least in the short term. On the other hand, they mainly targeted the small-time criminals of Sicily and left the big-timers, the real mafia bosses, relatively unscathed.. In addition, the severity of the methods used created great resentment among the more impoverished sectors of society, leading to growing discontent and mistrust of the State
As a senator, Mori continued to follow Sicilian affairs closely, and made sure he was always well informed. However, he no longer had any influence and was essentially a marginal figure. He wrote his memoirs in 1932. He retired to Udine in 1941 and died there one year later, a forgotten figure in a country by then in the throes of the Second World War. É OS MAFIOSO $$
Ad blocker interference detected!
Wikia is a free-to-use site that makes money from advertising. We have a modified experience for viewers using ad blockers

Wikia is not accessible if you've made further modifications. Remove the custom ad blocker rule(s) and the page will load as expected.