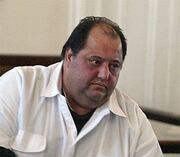 Carmen DiNunzio (born 1960) is an Italian-American mobster and current underboss of the Patriarca crime family.
Biography
Edit
DiNunzio was born in Providence, Rhode Island, he became the Underboss of the Patriarca Family in 2009, his brother Anthony DiNunzio was named acting boss when Peter Limone was arrested on a gambling charge, and may now be in control of the family.
He is widely known in the media by his nickname "The Cheeseman", and for his large size, he weighs more than 300 pounds, he is the proprietor of The Fresh Cheese Shop in Boston's North End (which maybe how he got his nickname) and overseer of the Beantown rackets.
In 2005, he accidentally struck and killed a teenage girl who walked in front of his car. He wasn't faulted as the girl cut in front of him while the light was green. He was interviewed and was very upset about it, he spoke to the family and they appreciated his overture regardless of his reputation.
He was arrested in 2008 for corruption charges that were pressed against him following an FBI investigation. In 2009, he pleaded guilty and was sentenced to six years in prison. His brother Anthony is also currently imprisoned.
Ad blocker interference detected!
Wikia is a free-to-use site that makes money from advertising. We have a modified experience for viewers using ad blockers

Wikia is not accessible if you've made further modifications. Remove the custom ad blocker rule(s) and the page will load as expected.