The Coupe de Ville (sometimes spelled Coupe Deville or Coupe DeVille) was a model of Cadillac from 1949 through 1993. The Coupe De Ville was used by many members of the mafia because it had status and intimidating looks and was much faster than it's 4 door counterpart.
Model history
Edit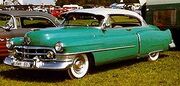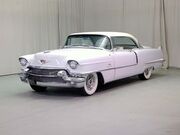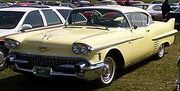 The Coupe de Ville was introduced by Cadillac late in the 1949 model year. Part of the Cadillac Series 62 line, it was a closed, two-door coupé, Cadillac's first pillarless hardtop. Intended as a prestige model, at $3,497 it was one of the most expensive models of the Series 62 line. It was luxuriously trimmed, with leather upholstery and chrome 'bows' in the headliner to simulate the ribs of a convertible top. The first-year Coupe de Ville sold 2,150 units, but 1950 sales were more than double, and 1951 more than doubled those of the previous year. By 1961 it was one of the company's most popular models, with annual sales above 20,000.
Cadillac De Ville nomenclature always followed a tradition: Two doors with steel roofs were always Coupe De Ville, four doors were always Sedan De Ville until the elimination of two door models, and convertibles were Series 62s, as they were neither a coupe, nor a sedan by design.
Further, from the beginning and for many years, De Ville denoted an option package on the basic car (called Series 62, later Calais), not the body style. In other words, a four-door Cadillac might not be a Sedan De Ville, and in which case it would not have such lettering on the flanks of the car.

In 1956 the Coupe de Ville was joined by the Sedan de Ville, a four-door hardtop sedan. The Sedan de Ville would ultimately outlive its two-door predecessor. For 1958 the car was fitted with quad headlights.
Fourth generation
Edit
Production 1959–1964
Body style(s) 2-door hardtop
2-door convertible
Layout FR layout
Engine(s) 390 in³ V-8
429 in³ V8
Wheelbase 129.5 in (3289 mm)
Length 1959-1960: 225.0 in (5715 mm)
1961-62: 222.0 in (5639 mm)
1963: 223.0 in (5664 mm)
1964: 223.5 in (5677 mm)
In 1959 the De Ville line was redesigned and separated in a distinct Series 63. The new model featured full fender skirts and a sleeker front end.
The Coupe de Ville, like other Cadillacs, grew substantially larger and more powerful from 1949 through to the early 1970s. By 1973 it was 4 in. (101.6 mm) longer in wheelbase, 17 inches (431.8 mm) longer overall, and more than 900 lb (408 kg) heavier, and its standard V8 engine had grown from 331 in³ (5.4 L) to 472 in³ (7.7 L).
Fifth generation
Edit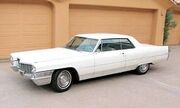 Production 1965–1970
Body style(s) 2-door hardtop
2-door convertible
Layout FR layout
Engine(s) 429 in³ V8
472 in³ V8
Transmission(s) 3-speed automatic
Wheelbase 129.5 in (3289 mm)
Length 1965-66: 224.0 in (5690 mm)
1967-68: 224.7 in (5707 mm)

1967 Cadillac de Ville convertible, but not a Coupe de VilleThe Coupe de Ville was redesigned for 1965 but rode on the same 129.5-inch (3,290 mm) wheelbase. The elevated tailfins were removed, with fins planed flat, and sharp, distinct body lines replaced the rounded look. Also new were a straight rear bumper and vertical lamp clusters. The headlight pairs switched from horizontal to vertical, thus permitting a wider grille.
Curved side windows appeared, and pillared sedans returned in the Calais and De Ville series. Sixty Specials likewise gained roof pillars, while six-window hardtop sedans were dropped. The Special also reverted to its exclusive 133-inch wheelbase after riding the standard 129.5-inch chassis for 1959-64.
Although sales on the restyled 1965 Coupe de Ville set a record for this popular body style, it took second place to the companion four-door hardtop Sedan de Ville. 43,345 Coupe de Ville hardtops and 19,200 Coupe de Ville convertibles were sold during the 1965 model year. Models 68357-J to 68367-F, the Coupe de Ville carried a manufacturer retail prices ranging from $5,419 to $5,639 for hardtops and convertibles.
A padded vinyl roof was a $121 extra-cost option on the hardtop model. The engine size had grown to 429 in (7.0 L) with 340 horsepower. All four de Ville models had small script nameplates on the ends of their rear fenders just above the chrome side molding.
In 1966 the body-style remained unchanged, with only cosmetic styling changes from the previous year. It carried Tiffany-like scripts above the rear tip of the horizontal body rub moldings. Standard equipment additions followed the pattern of previous years. Cadillac crests and V-shaped moldings, front and rear, were identifiers.
Coupe de Ville sales passed the 50,000 mark during the 1966 model year for the first time, but continued to trail those of the four-door Hardtop Sedan de Ville. De Ville closed models had chrome trim in the concave reveal around the side window openings, including the window sills. Automatic level control was available. A new engine mounting system and patented quiet exhaust were used. Weight was 4,460 lbs for the hardtop and 4,445 lbs for the convertible.
Prices for the 1966 models ranged from $5,339-$5,555 for hardtops and convertible. 50,580 units were sold.
The 1967 Coupe de Villes were extensively restyled. Prominent styling features were given a powerful frontal appearance with forward-leaning front end, long sculptured body lines, and redefined rear fenders that had more than just a hint of tail fins in them. The full-width forward-thrusted "eggcrate" grille was flanked by dual stacked headlights for the third consecutive year. Rectangular parking lamps were built into the outer edges of the grille.
Minor trim variations and slightly richer interiors separated DeVilles from Calais. Tiffany style chrome signature scripts were again found above the body side molding on the rear fenders. Coupe de Ville and Calais got a new roofline, inspired by the Florentine show car created for the 1964 New York World's Fair.
As on that show car, the quarter window glass retracted rearward into a sail panel.
The 1967 Coupe de Ville equipment lists included all the same features found on Calais models plus power operated window regulators; rear cigarette lighters in all styles and two-way power front seats. A slide-out fuse box and safety front seat back lock for two-door models were additional Cadillac advances for the 1967 model year.
Sixth generation
Edit
Production 1971–1976
Body style(s) 2-door hardtop
2-door coupe
Layout FR layout
Engine(s) 472 in³ V8
500 in³ V8
Transmission(s) 3-speed automatic
Wheelbase 130.0 in (3302 mm)
Length 1971-72: 229.0 in (5817 mm) 1973-76: 230.7 in (5860 mm)
Width 76.4 in (1941 mm)
Height 53.8 in (1367 mm)

The Coupe de Ville remained a pillarless hardtop through the 1973 model year, but for 1974 was restyled as a pillared two-door with then-fashionable opera windows behind the side windows. The Sedan de Ville remained a pillarless four-door through 1976. New rectangular headlights with wraparound turn signals appeared in 1975, and the grille was no longer recessed. The 472 in³ engine was discontinued for 1975, leaving the 500 as the sole engine.
Seventh generation
Edit
Production 1977–1984
Body style(s) 2-door coupe
Layout FR layout
Engine(s) 425 in³ V8
4.1L V6
368 in³ V8
4.1 L HT-4100 V8
350 in³ LF9 diesel V8
Transmission(s) 3-speed automatic
4-speed automatic
Wheelbase 121.5 in (3086 mm)
Length 1977-79: 221.2 in (5618 mm)
1980-84: 221.0 in (5613 mm)
Width 1977-79: 54.4 in (1382 mm)
1980-84: 54.6 in (1387 mm)
Height 1977-79: 74.6 in (1895 mm)
1980-82: 76.5 in (1943 mm)
1983-84: 75.3 in (1913 mm)/76.4 in (1941 mm)
This Cadillac Coupe De Ville is the most recognizeable generic cadillac that loads of gangsters drove.
When General Motors initiated the redesign of the B-body and C-body for the 1977 model year the DeVille (and all other full-size GMs) shrank by 9.8 in (249 mm) and about 750 lb (340 kg). The new standard engine was a 425 in³ (7.0 L) V8, with the 350 in³ LF9 diesel becoming an option for 1978.
In 1977, the first generation of down-sized Cadillacs included mechanically similar De Villes and Fleetwoods, with the latter still occupying the top of the lineup. The models primarily differed in minor trim, interior upholstery & equipment levels. These were the first De Ville models to be marketed without fender skirts over the rear wheels.
The 500 in³ V8 engine was discontinued, replaced by a 425 in³ engine. This engine was replaced by the 368 in³ V8-6-4 for 1980, and the 350 in³ LF9 diesel V8 was now an option. Reliability problems with the V8-6-4 engine's computer controls prompted Cadillac to rush their new aluminum-block HT series engine into production for 1982.
The d'Elegance package continued for Coupe de Ville in 1977. Three-sided, wrap-around tail lamps were a 1977 feature only (although they would re-appear in 1987). Coupe de Ville's popular "Cabriolet" option included a rear-half padded vinyl roof covering and opera lamps. Sales figures include 138,750 Coupe de Villes.
In addition to a redesigned grille, 1978 saw slim, vertical tail lamps inset into chrome bumper end caps with built-in side marker lamps (Cadillac would retain this "vertical tail lamp inset" design feature for many years, including Deville through 1999, and Fleetwood through 1996). New for 1978, a "Phaeton" package was optional for de Ville. The Phaeton package featured a simulated convertible-top, special pin striping, wire wheel discs, and "Phaeton" name plates in place of the usual "de Ville" ornament on the rear fenders. Inside were leather upholstered seats and a leather-trimmed steering wheel. The package was available in Cotillion White (with Dark Blue roof), Platinum Silver (with a Black roof), or Arizona Beige (with a Dark Brown roof). Sales figures included 117,750 Coupe de Villes.
With bigger changes coming in 1980, the 1979 models saw few alterations, one of which was a new grille design. The lineup for the 121.5" wheelbase cars remained the same three models as before. As it had been since the discontinuation of the Calais for 1977, the Coupe de Ville was Cadillac's entry-level model at $11,728. For 1979, the "Phaeton" package was still available in three colors, but with a new color, "Western Saddle Firemist" (with leather interior in "Antique Saddle") replacing the "Arizona Beige" scheme.
In the Martin Scorsese film, Goodfellas, the Western Saddle "Phaeton" package was featured on the 1979 Coupe de Ville driven by Henry Hill (portrayed by actor Ray Liotta).

1980 Cadillac Coupe de Ville1980 saw a major redesign; while maintaining the same wheelbase and interior, the body exterior was redesigned. The Phaeton option was discontinued. Coupe de Ville now wore full, bright side window surround moldings. The chromed-plastic grille held a Rolls-Royce inspired design, with thick vertical bars. The grille cast for 1980 was used again for the 1989 to 1992 Brougham. Late in the 1980 model year, V6 power (in the form of a 4-bbl 252cu engine manufactured by Buick) was offered as a credit option. This became the first sub-V8 (less than 8 cylinders) powerplant offered in a Cadillac since 1914. The standard engine for 1980 was a new 368cu (6.0 liter) V8. Pricing for Coupe de Ville was $12,899.
1981's biggest news turned out to be a fiasco - the V-8-6-4 engine. Despite numerous customer complaints, Cadillac defended the micro-compressor controlled powerplant, and even offered special extended warranties to customers. Also available again this year was Oldsmobile's 5.7 liter V-8 diesel engine. The Buick V-6, teamed with an automatic transmission, returned for 1981 after a short initial offering in the spring of 1980. With the new front-drive Cadillac Cimarron taking over as Cadillac's entry-level model, the Coupe de Ville now became the step-up, priced at $13,450. A new grille design was made up of small squares, similar to the pattern from 1979. The egg-crate 1981 grille cast was used again for the 1987 and 1988 models.
1982 changes were few: a new grille design (which was used for 1982 through 1986), revamped parking lamp/tail lamp ornamentation, and a new standard wheel cover design. The biggest news for Cadillac that year was the 4.1 liter V-8 engine to replace last year's V-8-6-4 (which returned in 1982, but only for the Fleetwood 75 limousine). The new engine featured a closed-loop digital fuel injection system, free-standing cast-iron cylinders within a cast-aluminum block, and was coupled with a 4-speed automatic-overdrive transmission. Other engine options included the Buick V6 or Oldsmobile's diesel V-8. The Coupe de Ville was priced at $15,249.
Tenth generation
Edit
Production 1985–1988
Body style(s) 2-door coupe
Layout FF layout
Engine(s) 4.5 L 155 hp (116 kW) V8 / 4.1 L 130 hp (97 kW) V8
Transmission(s) 4-speed automatic
Wheelbase 110.8 in (2814 mm)
Length 1985-86: 195.0 in (4953 mm)
1987-88: 196.4 in (4989 mm)
Width 1985-86: 71.7 in (1821 mm)
1987-88: 72.5 in (1842 mm)
Height 55.0 in (1397 mm)
Eleventh generation
Edit
Production 1989–1993
Body style(s) 2-door coupe
Layout FF layout
Engine(s) 4.9 L 200 hp (150 kW) V8
Transmission(s) 4-speed automatic
Wheelbase 110.8 in (2814 mm)
Length 202.7 in (5149 mm)
Width 73.3 in (1862 mm)
Height 54.4 in (1382 mm)
In 1985 the De Ville was downsized again, dropping some 26.2 in (665.5 mm) in length and 800 lb (363 kg) of weight. It also adopted front-wheel drive, moving to the new C-body platform.
The declining popularity of full-size coupes led to the discontinuation of the model in 1993. For 1994, The De Ville (now identified on the car with a capital " D") series was composed of the four-door Sedan De Ville and (Sedan) De Ville Concours. Starting in 1997, it was known simply as the Cadillac De Ville for several years, although the Concours version was available through 1999. Subsequently, Cadillac added a 'DTS' model to the De ville series, an abbreviation for De ville Touring Sedan.
Popular culture
Edit
1950s models with their extravagant fins are probably the best-known versions of the car. Models from this era have commonly appeared in movies and music videos and also on postage stamps. Devin the Dude's song Lacville '79 is about a Coupe de Ville. A Coupe de Ville is mentioned in the Eddie Cochran song "Teenage Heaven" (released 1959), in The Hooters song "Satellite", in the Meat Loaf song "Two Out of Three Ain't Bad" The song "Crazy Rap" by Afroman and in the Kings of Leon song "Knocked Up".
Don Draper, the main character of Mad Men, buys a Coupe de Ville after becoming a partner of Sterling Cooper, encouraged by Roger Sterling, who thinks owning such a vehicle means one has "arrived".
Gangsters Who Used the Cadillac Coupe DeVille
Edit
Real Ones
Edit
Henry Hill 1943-2012 in the movie Goodfellas (1979 Phaeton limited edition Model orange.)
Roy DeMeo 1942-1983 a Soldier in the Gambino Crime Family (1977 Model yellow.)
Pasquale Spirito 1939-1983 a Capo in the Philadelphia Crime Family (1978 Model grey.)
Donnie Brasco in the movie Donnie Brasco (1977 Model red.)
Louis Cafora in the movie Goodfellas (1978 Model pink.)
Fictional Ones
Edit
Sonny LoSpecchio a character in A Bronx Tale (1968 convertible Model red.)
Tony Montana a character in the movie and game Scarface (1959 convertible Model yellow.)
Johnny Soprano a character in the sopranos (1966 covertible Model blue) and later a (1968 convertible Model Orange.)
Johnny Gat a character in Saints Row II (1976 Model called the stiletto in the game).
Ad blocker interference detected!
Wikia is a free-to-use site that makes money from advertising. We have a modified experience for viewers using ad blockers

Wikia is not accessible if you've made further modifications. Remove the custom ad blocker rule(s) and the page will load as expected.