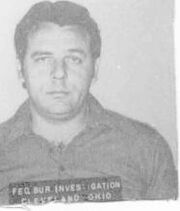 Pasquale "Butchie" Cisternino (died 1990), was a notorious soldier in the Cleveland crime family.
Biography
Edit
Cisternino was a close associate of Allie Calabrese and Ronald Carabbia and committed several burglaries with his childhood friend Calabrese in the Cleveland area. Cisternino played a big role in the planning and execution of the murder of Danny Greene and had previously participated in several failed attempts to kill the Irishman, including once in a remarkable incident in March of 1977 in the parking lot of Cleveland Hopkins International Airport when John Nardi and Greene were returning from a meeting in New York City with Gambino Crime Family boss Paul Castellano. Cisternino and Allie Calabrese, had planted a remote-controlled bomb in the car occupied by Nardi and Greene. But the bomb did not go off.
Cisternino and Ronnie Carrabbia were convicted of state murder charges in connection with the Greene murder and were sentenced to life in prison. Carabbia was released in 2002 after serving almost 25 years in prison. Cisternino died while incarcerated in 1990.