Giovanni Brusca's father Bernardo Brusca, was a capo in the of San Giuseppe Jato mafia Brusca had been in prison since 1985 serving several life sentences. He died of a heart attack at 72 on December 8,2000. He had been ill for some time. Brusca eventually forgave his sons Giovanni and Enzo for collaborating with the Italian authorities, telling his lawyer at one of their last meetings: "I'm an old man. I don't count for anything. But they made the right choice."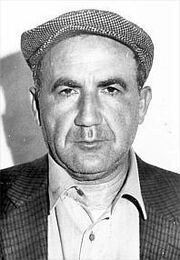 Ad blocker interference detected!
Wikia is a free-to-use site that makes money from advertising. We have a modified experience for viewers using ad blockers

Wikia is not accessible if you've made further modifications. Remove the custom ad blocker rule(s) and the page will load as expected.