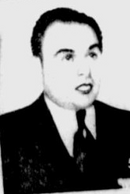 Arturo Volpe (1902-1932) was a bootlegger and soldier in the Pittsburgh crime family. He was the youngest of the eight Volpe brothers.
Biography
Edit
The eight Volpe brothers were racketeers in the Turtle creek Valley who claimed royal Italian blood and virtually owned police and politicians in the Areas in which they operated. They made no attempt to hide their status and according to one newspaper were known for their "gaudy display of showmanship". They used the Roman Coffee shop, owned by John Bazzano as their headquarters. Bazzano had agreed to take on the Volpe's as his business partners. But when the brothers expanded their territory into East Liberty and the North Side, Bazzano ordered them killed.
On July 29, 1932, gunmen pulled up to the Coffee shop and opened fire. John Volpe was shot four times on the sidewalk. Inside the shop, a spray of bullets hit Arthur as he was eating a bowl of cornflakes. James Volpe died trying to hide behind the counter. On the weekend of the funeral a multitude of people visited the Volpe home to pay their respects- among them, Judges, Prosecutors, police and politicians.
Two of the surviving Volpe brothers, Joseph and Louis Volpe, traveled to New York and complained to 'The Commission'(others believe it was Scranton crime boss Santo Volpe who went before The Commission, as Louis was serving time on a bootlegging conviction around this time), which decided to make an example of Bazzano for not having the hit on the Volpe brothers sanctioned. Bazzano would turn up murdered in August of the same year.
Ad blocker interference detected!
Wikia is a free-to-use site that makes money from advertising. We have a modified experience for viewers using ad blockers

Wikia is not accessible if you've made further modifications. Remove the custom ad blocker rule(s) and the page will load as expected.