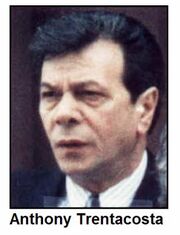 Anthony Trentacosta (September 12, 1940-December 25, 2005), also known as "Tony Pep", was a New York mobster and Caporegime with the Gambino crime family who headed one of their factions in South Florida.
John Gotti and the gasoline racket
Edit
Anthony was a Sicilian-American born to first generation immigrants from Marineo in Palermo, Sicily. They moved to the U.S. and settled in Ozone Park, Queens. He has two sons, Anthony and Joseph, from his first wife. In the 1980s, Trentacosta became a made man, or a full member, of the Gambino family under the sponsorship of new family boss and longtime friend John Gotti. Working out of Brooklyn and Ozone Park, Trentacosta soon had convictions for armed robbery, bookmaking, burglary, receiving stolen property, trespassing, parole violations and criminal contempt in Brooklyn and Ozone Park, Queens. By the end of the 80's, Trentacosta would be considered one of top earners in the family. His primary racket was a gasoline bootlegging that reportedly cost the U.S. government over $1 billion in lost tax revenues.
By the end of the 90's, Trentacosta asked permission from the Gambino family to move to Atlanta, Georgia, to escape FBI attention. Trentacosta invested in real estate, a moving and storage company, and a nightclub. He and his second wife bought a luxurious home in Cumming, Georgia.
Moving south
Edit
In March 1999, after the death of longtime caporegime Anthony Ruggiano, the Gambino family allegedly transferred Trentacosta to South Florida to lead Ruggiano's crew. Along with representatives of Leonard DiMaria, Trentacosta joined a crew that was conducting loansharking, extortion and bank fraud. The crew operated out of a pizzeria known as "Beachside Mario's" in Sunny Isles Beach, Florida. By 2000, Trentacosta had become the caporegime of the South Florida crew.
In 2001, Trentacosta was indicted on racketeering charges and in May 2002 was sentenced in Miami, Florida to eight years in prison. As part of his plea bargain, Trentacosta admitted that he belonged to the Gambino family. Christmas day, 2005, while still serving his prison sentence, Trentacosta died. He is buried at Saint Charles Cemetery in Farmingdale, New York.