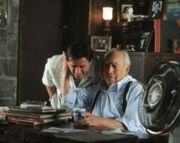 Angelo Salvatore Giuseppe Allieghieri (1922-2002) was a mob boss in
Avenging Angelo(Film)
. He is played by
Anthony Quinn
.
Early Life
Edit
Born in Sicily, in 1922 and in 1945 he started to work as enforcer for the local mafia in Palermo, but in 1950 he immigrated to America and there became Caporegime in the Coniglio Crime Family under Don Nino Coniglio.
In the mid 50's a violent mob war broke out wheen Don Nino died and Angelo's wife was killed but he didn't wiped out his two rivals Lucio Malatesta and Sammy Carboni. After that he became the Boss of the Coniglio Family and known as Don Angelo Allieghieri. By 1965 he was a powerfull Godfather and everyone feared him.
Angelo had one daughter who he wasforced to give away during the Mob War. Later he retired in 1997 and Lucio Malatesta bacame new boss.
He was killed in 2002 with Frankie Delano by his side by Bruno a murder send from Malatesta he was based on Thomas Lucchese.
Ad blocker interference detected!
Wikia is a free-to-use site that makes money from advertising. We have a modified experience for viewers using ad blockers

Wikia is not accessible if you've made further modifications. Remove the custom ad blocker rule(s) and the page will load as expected.