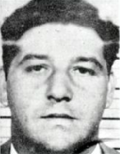 Alphonse J. LaRocca (born February 9, 1912- died June 18, 1985) also called "Al" and "Charles", was a soldier and prominent mobster in the San Francisco crime family.
Biography
Edit
LaRocca was born in San Francisco, California. LaRocca was of swarthy complexion and heavy build. He was a close associate of infamous Bay Area mafia boss James "Jimmy the Hat" Lanza. His only known arrest came on June 27, 1939 for investigation but he was subsequently discharged. He was the father of Leo LaRocca and Annette LaRocca Lippi.
The LaRocca family were prominent businessmen in the San Francisco Bay Area. LaRocca was the co-owner of LaRocca & Sons Fish Company which was established in 1902 by Accurrio (Leo) LaRocca, his father, and managed with the support of Alphonse and his brother Pasquale, a fellow member of the San Francisco crime family. The company became one of the major distributors of Dungeness crab at Fisherman's Wharf in San Francisco. He was also the owner of A. LaRocca Sea Food, a sea food company and the California Shellfish Co. In addition to these companies, Alphonse also had an interest in a number of commercial fishing boats. LaRocca's fishing companies also owned refrigerated trucks that would transport their product to their customers throughout San Francisco. LaRocca apparently became a member of the San Francisco family under influential mob boss Anthony Lima. He was considered an important member of the mafia in California and was a suspected drug smuggler.
LaRocca allegedly remained active in San Francisco crime family affairs until his death in 1985 of natural causes.
Ad blocker interference detected!
Wikia is a free-to-use site that makes money from advertising. We have a modified experience for viewers using ad blockers

Wikia is not accessible if you've made further modifications. Remove the custom ad blocker rule(s) and the page will load as expected.