Al Lettieri (born Alessandro Lettieri, February 24, 1928 – October 18, 1975) was an Italian American actor, best known for his portrayal of Virgil "The Turk" Sollozzo in The Godfather(Film). Lettieri projected an aura of menace and ruthlessness in his film roles, which he attributed to his acquaintance with real-life gangsters, including Joey Gallo. At the age of 36, he made his screen debut in the TV film The Hanged Man. Lettieri played the villain against some of Hollywood's biggest screen names including chasing Steve McQueen in The Getaway, Charles Bronson in Mr. Majestyk, and John Wayne in McQ. Lettieri is the only actor credited as "starring" in The Godfather who is not on the movie poster. Lettieri died of a heart attack in 1975, at the age of 47, leaving two children. His daughter, Alda Lettieri, is a stage actress in New York City.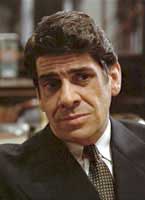 Ad blocker interference detected!
Wikia is a free-to-use site that makes money from advertising. We have a modified experience for viewers using ad blockers

Wikia is not accessible if you've made further modifications. Remove the custom ad blocker rule(s) and the page will load as expected.