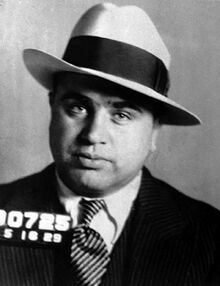 Early Life
Edit
Alphonse Gabriel Capone was born in Williamsburg, Brooklyn, New York on January 17th of 1899 to Gabriele and Teresina, Neapolitan immigrants of six years. He was the fifth out of nine children. Contrary to popular belief, Al Capone did not quit school in the 6th grade but his brother Raffaele did. Al Capone was the first child in his family to graduate from high school. He worked in a variety of street gangs, more importantly the teenage-run James Street Gang headed by Capone's future mentor Johnny "Papa Johnny" Torrio. In school and in this gang, Capone met life long friend and future mafia boss Lucky Luciano who would later be responsible for organizing the Five Families of New York City.
Nickname and Namesake
Edit
Torrio and partner/fellow mafioso Frankie Yale hired teenage Al Capone in 1917 to be a bouncer in their bar and brothel where he disrespected the sister of mobster Frank Galluccio. Galluccio handled the situation by slashing young Capone in the face with a knife, leaving a gash on Capones left cheek, earning him the nickname "Scarface (Al)". Al Capone later told people he was wounded while serving in the Lost Battalion in the Great War of France, however Al Capone had never served in the military.
Capone's Big Break
Edit
In 1919 Capone's mentor "Papa Johnny" Torrio had been summoned by uncle "Big Jim" Colosimo in Chicago to assist him in running prostitution rackets. Colosimo at the time had been the biggest pimp in Chicago. Meanwhile Capone had a run-in with the law for a murder. In avoidance of prosecution, Capone went to Chicago in place of Torrio. By time Al made it to Chicago, Big Jim and Papa Johnny had a big conflict over mob business in Chicago when Torrio saw the lucrative business opportunities prohibition had brought. Torrio wished for and expected Uncle Jim to begin running alcohol bootlegging operations. The wealthy Jim Colosimo had no interest in this idea for he was doing just fine in his prostitution businesses. Colosimo had no interest in Torrio having the bootlegging business either and ordered him not to get into it, which brought the realization to Torrio that his uncle was only in the way and had to be taken out. Johnny Torrio and his apprentice Al Capone organized Big Jim's assassination and hired hitmen to carry it out while they went under the radar. The partners in crime soon started taking over criminal enterprises in Chicago with threats of war if the organizations failed to cooperate.
References
Edit
The Mafia Encyclopedia 3rd Edition by Carl Sifakis
True Crimes: Gangsters Outside the Law by Michael Newton